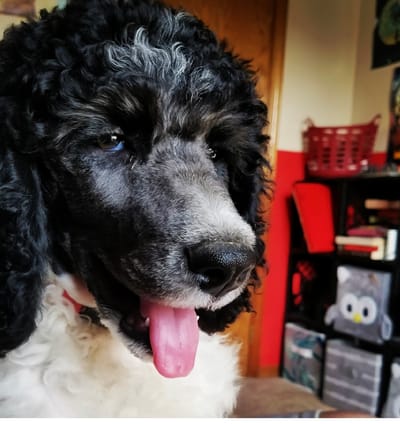 Kyara grew up in New York and had all sorts of dogs for as long as she can remember. It was always her dream to own a Standard Poodle. As anyone who owns one knows, a Standard Poodle is not just any dog! She finally obtained her dream in October 2016. After looking for the perfect Standard Poodle, she finally found her adopted Quinn Visits London! This puppy was perfect in every way. Her only regret was that she had waited so long!
There truly is no greater breed of dog.
According to
AKC
, Standard Poodles are: "
Active, Proud, Very Smart . . . beneath the curly, hypoallergenic coat is an elegant athlete and companion for all reasons and all seasons."
After training Quinn to be a service dog for her son with Autism, she decided that more people needed to own this fantastic breed of dog! Although, it is true that not everyone has the space or time to dedicate to taking excellent care of a Standard Poodle. For the many who can dedicate the resources and time to taking care of a one, I want to provide an excellent puppy for you!
Early Neurological Stimulation (ENS)
In short
,
Early Neurological Stimulation, or ENS, is a very specific program that was developed by the
United States Military
for use with their canines. By utilizing this very specific program, my puppies are safeguarded against stress. Think of ENS as a vaccination against stress that begins a day 3 of their life. Although it is not an injection, ENS helps protect the young puppy from becoming overly stressed during what would be stressful situations later in life. Puppies I produce do not seem to experience as much anxiety and are less fearful to new situations. They have not experienced "separation anxiety" as many highly intelligent dogs seem to do. This simple but very effective method of desensitizing a puppy can only be done during the first 16 days of their life. After day 16, this particular window is forever closed.
Storybook Puppies
receive the full benefit of ENS!
Early Scent Introduction (ESI)
is performed in conjunction with Bio-Sensor training on the puppies from day three thru day sixteen. A pungent scent is introduced to the puppy each day for short intervals. Their reaction to the scent is then recorded. A positive reaction is when a puppy will try to move towards the scent with their nose highly engaged in the scent. A negative reaction will have the puppy pulling back from the scent. A neutral reaction will be when the puppy does not seem interested or disinterested. Early scent introduction is just another way that we at Storybook Standards are able to bring you the best possible puppy that starts out with the best possible advantages! Clients that are looking for pets that want to enter into various field trials, along with just the joy of hunting with their dog will also benefit from this early training. Even if you don't foresee an instant need, maybe in your future with your dog it will arise, and having your dog the inset skill, is like having money in the bank.
Early Training
It has been established that about 35% of performance is inherited. The other 65% is attributable to other influences such as early training and nutrition. If I wanted to produce top quality Standard Poodles, 35% could potentially come from my excellent Standard Poodle parents. The other 65% was going to be up to me. I researched training methodology extensively. There is a great deal to learn about early training for puppies. What could make the difference between a nice, sweet puppy and an excellent one? I learned all I could from some of the greatest minds in the world. I continue to learn something every day! In my searching, I became aware of a program entitled, "Puppy Culture."
What is Puppy Culture?
Puppy Culture
represents a gold standard in puppy rearing and early socialization. Puppy Culture provides easy to follow weekly and daily protocols to provide excellent training for the first 12 weeks of a puppies life. By the time a puppy goes to their home, too much opportunity is lost if the puppies are not trained right from the very beginning.
What separates a nice puppy from an excellent one?
A dedicated breeder who is 100% invested in the outcome of the relationships they are creating.
Truly, breeders do not just bring puppies into the world but create permanent relationships for those puppies. It is my
responsibility
to assure that those puppies develop wonderful, storybook relationships. It is my
desire
that every puppy I am responsible for helps their people live a
storybook
life! That can happen with a
Storybook puppy
!
Classical Music
Puppies, just like human babies, sleep a lot! If they're sleeping, I can not be training them, right? WRONG! As soon as their ears are open, they listen to the classical music I've been playing in the background their entire life. Classical music has been proven to increase and enhance the neurological pathways to the brain. Further, it is believed that classical music actually makes human babies healthier, happier and smarter. I believe the same is true for
Storybook Puppie
s
. There is quite a bit of evidence that suggests that classical music enhances physical development and long term health. The structural, slow tunes relax the mind and heart. Young babies who listen to classical music develop better memories and listening skills. I am determined to prove this is true for
Storybook Puppies
as well!
Can I GUARANTEE long term health?
I do! Every
Storybook Puppy
comes with a
LIFETIME HEALTH GUARANTEE!* All of my breeding dogs are health tested and 100% CLEAR
of all known breed specific health issues. This means that is impossible for a
Storybook Puppy
to get certain conditions. While I can not control tragedy, I can control the healthy genetics a
Storybook Puppy
i
nherits. How awesome is it to know that you would never lose your beloved puppy to the most common diseases? VERY! VERY AWESOME, INDEED!
SERVICE/THERAPY or Emotional Support Puppy Potential
Many of our puppies have been selected for "Service Dog" training. It takes a very special puppy to be selected and to fulfill the rigors of Service Dog training.
We administer the Volhard Puppy Aptitude Test (PAT), a temperament test originally developed by Joachim and Wendy Volhard, to many of our puppies.
This test has been referred to as a "canine crystal ball" used to identify a puppy's personality. Used effectively, this test is an excellent measure of behavioral tendencies and is able to very effectively predict what a puppy will be like as an adult. The test uses a scoring system to measure 11 behavioral tendencies. Storybook Standard puppies often score very well on the Volhard PAT. This makes many of our puppies well suited to be service dogs or emotional support dogs in the future.
Application/Approval
Guaranteeing happy healthy forever relationships is another thing that separates Storybook Standards from others. We truly
SURPASS the STANDARD for STANDARD POODLES!
For this reason, there is an application process. Most applications are approved. Unfortunately, not everyone who wants a
Storybook Standard Poodle
will be approved for one. There may be times that, after looking over an application, I find myself unable to make an excellent match for an applicant. This might not mean that I would never place a puppy with a denied applicant but that the current puppies I have available would not be a good fit for your lifestyle or dream. An example of this might be if you are looking for a puppy to train for agility and the puppies I have are the ones that would rather cuddle with you than run an agility course. If your application is denied, you will be told exactly why. Denials are rare but they may happen.
.